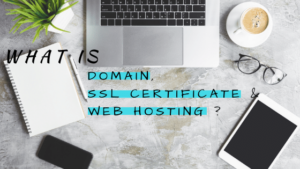 If you want to launch a website words like domain, web hosting, and SSL certificate are some of the terms you will encounter. What do they all mean? Let's break it down so you can be well versed and make an educated decision when launching your website.
What is Domain?
The Domain is a web address such as google.com or gianlucaianiro.com. It is the location where your website is located similar to a house address. This is the address you would enter into an address bar of a search engine such as google chrome, safari, internet explorer, Firefox and so on. The domain extension also referred to as the Top-Level Domain (TLD) is the ending of your address such as .com, .ca, .net, .org. There are many different domain extensions and the most popular is .com like you probably guessed. The first step to getting a webpage is registering your domain. I would always recommend trying to get a domain with a .com extension. There is lots of debate on whether Google ranks your website higher if you have a .com extension versus other extensions such as .net. In the end, I personally don't think it matters however .com is definitely easier to remember and communicate to your audience.
Where can you get a Domain from?
You can buy domain names from a domain registrar (such as Namecheap or
BlueHost
). Your domain does NOT need to be hosted in the same place where you buy and register your domain. You can always either transfer your domain to a hosting provider or just redirect your domain to a hosting provider. When looking for a domain to register you can go to a domain registrar (such as NameCheap and
BlueHost
) and type in the domain you want. The domain registrar will then let you know if it is available or if it is taken. It will also provide alternate extensions to .com or alternate domains that are similar.
What is the URL?
What is the difference between a domain and URL (Universal Resource Locator)? The URL is the full address of a website or a single page on a website. Example:
https://gianlucaianiro.com is a URL that includes the domain (gianlucaianiro.com) in it. The https:// portion is known as the Secure Hypertext Transfer Protocol (https:// or http://)
https://gianlucaianiro.com/start-here/ includes the domain (gianlucaianiro.com) the Secure Hypertext Transfer Protocol (https://) and direct you to a specific page on my website site which is the Start Here page (/start-here/)
What is an SSL Certificate?
As mentioned in the previous example Hypertext transfer protocol is a protocol that allows communication between different systems (web browser and your website server). There are two types of hypertext transfer protocols http:// and https://. An SSL (Secure Socket Layer) Certificate secures and encrypts your website data. The letter "s" at the start of your domain name, "https://" stands for secure, followed by a padlock symbol. Having an https:// domain encrypts your data on your website preventing third parties from gathering data being transferred between the web browser and your website. You might be thinking what data am I transferring that I would need to encrypt? This could include your website user entering their name, email address, credit card information… So, as you can imagine it is extremely important that you have an SSL certificate and in turn an https:// website address. The SSL certificate can be purchased from your hosting provider.
What is Hosting?
There are multiple web hosting providers such as
BlueHost
, NameCheap, GoDaddy… A web hosting provider allocates space on one of its web servers to store all your website's information (domain, pages, pictures, content…). As a result, the hosting provider takes your domain and allows it to be displayed on the internet also known as the worldwide web (www.) When someone then enters your domain on the address bar of a web browser your website host providers display your website. Every website must be hosted for your customers to find you online. Every server or host has its own IP (Internet Protocol) address; a string of unique numbers that the DNS (Domain Name System) uses to link visitors to your website through your domain name.
Why You Should Choose BlueHost for Your Websites
There are several hosting companies with various plans you can choose, and it can be overwhelming to make the right choice. Here are reasons to choose
BlueHost,
which currently powers over 2 million websites worldwide:
Reasonable Pricing
It costs $3.95 US/month ($5.42 CAD/month) and a few minutes to sign up and start building your own site on
BlueHost.
This is the special promotional pricing beginner package, and it suffices for anyone who is pretty new into web hosting. You can upgrade your membership if you want to expand in the future.
WordPress Recommended
BlueHost
has been recommended by WordPress since 2005! WordPress provides one of the largest site building tools out there. With one click you can integrate the WordPress dashboard and start creating your new site within minutes.
Free Domain
Once you sign up,
BlueHost
offers you a free domain for the first year. You get a free .com name of your choosing (which costs about $10-15 a year) as soon as you sign up. This offer simplifies the process, especially for those who are new to hosting.
Free SSL Certificate
SSL certification helps to safeguard your site from unauthorized parties, which protects your data and that of your audience. It is free on
BlueHost
and automatically installs once you sign up. If it doesn't, there's a guide to help you install it manually.
Easy Sign up
Signing up on
BlueHost
is easy. You are to find a plan of your choice (preferably the Basic package if you're building just want one site), secure your free domain, and check out for any extra features. After that, click WordPress integration and you're ready to start adding content to and editing your page.
24/7 Support
Bluehost
offers 24/7 technical support via live chat, phone, and email. If you encounter any problem, get in touch with the support team, send a support ticket, or call them at (888) 401-4678. They also offer a 30-day money-back guarantee after 30 days if you're unsatisfied and want to get a refund.
Conclusion
BlueHost
is arguably the most popular web hosting platform across the globe. This can only mean one thing; the delivery of quality products and services. Choosing BlueHost is bound to be an excellent choice you will enjoy.