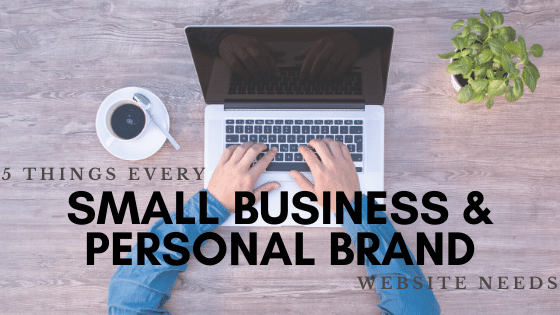 1. A Clear Message
Your homepage which is the page customer go to when they enter your web address on their browser should clearly state:
What pain points do you address?
How can you solve the pain points?
What would the results look like for your customers?
When customers are online, they are not looking to know who you are. They are really looking to solve a problem they have. As a result, it is critical you speak their language.
Let's take for example your business is health and fitness-focused. You can start off by asking the following questions:
Is life too busy?
Not sure what to eat?
Not sure what to do?
If the customer answers yes to any of these questions because they are struggling with one or all of the points. Then they are hooked because you understand their problem. This can apply to any business.
Next, the key is to briefly explain how you can help them and what would be the result for them. For my business, I can help them by figuring the technology gap and strategy allowing them more free time to focus on their business and relieving the feeling of overwhelming.
2. About Us or Me Page.
This page should not be mistaken with the information you put on your homepage. The homepage briefly explained how you can help them. However, at this point customers are asking themselves two questions:
what makes you so qualified?
Do I see myself working with this company/person?
This is where the about page on your website comes in. You should have an about me tab on the top menu on your website. In addition, your home page where you described how you can help should also link to the about me page, so the customer does not need to scroll all the way the top of the page.
The about me page should include your qualifications as well as some personality. After all, customers want to work with individuals and companies they can relate to. This is a great place to mention you have a family, you have two kids, you like Star Wars and etc.
Obviously don't get too much off-topic but interject some of your personality (or company's personality) in your about page.
3. Contact Information
It goes without saying that your website needs a contact form. There should be a tab on your main menu that states Contact Me or Contact Us. This is pretty basic.
One item that I believe is equally important is contact information.
Phone number
email address
mailing address
The mailing address is debatable, considering some entrepreneurs work from home so they are reluctant to display their home address. I completely understand. However, as a minimum, you should display the city, state/province, the country you are based in.
Although you may have an online business and can work remotely customers still want to work with someone they can relate to in terms of where they live. It could mean their city, state/province, country or continent.
Customers are inundated with companies online that are either using advertising or cleaver SEO practices however are just there to make a quick buck. Providing contact information means you will not run away once you get an order.
Providing your contact information also gives customers some tummy comfort, knowing there is a way to contact you directly without going through the contact form and waiting for a reply.
Contact information should be displayed in the footer of your website.
4. An email subscription prompt
Having a prompt on your website to collect emails is important. Typically, a customer will give you their name and email address for something in return. This can be:
Updates via email
Offers via email
Newsletter via email
A lead magnet (e-book, guide, cheat sheet …)
Customers may not be ready to work with you the first time they visit your site however collecting their email will allow you to work on building that relationship. Eventually leading to a potential sale.
Email marketing is a big and important topic in itself, so I won't go into depth about here, but I do plan to create a more detailed blog post about email marketing.
5. A blog (optional – but highly recommended)
Not every site needs a blog. However, there is definitely a benefit to having a blog section on your website. Think of a blog as a way to publish new content on your website. This improves SEO (Search Engine Optimization) since search engines (such as Google) like new content.
If you are a service-based business such as a plumber, you might be thinking:
I offer plumbing services. Why do I need a blog?
What would I blog about?
As a plumber you most likely encounter the same problems and questions from various customers. Therefore, this is your opportunity to educate customers that go to your website.
Example:
How to prevent your water pipes from freezing?
Why is my water pressure low?
Why does my toilet take so long to flush?
As a result, if a customer is on your website and is dealing with the same issue, they now know that you have seen this issue. This builds up your creditability and will increase the chance that they will call you for your service.
A blog is also a good place to talk about a new product or service that solves a customer's problem.
I would highly recommend all the items above be added to your website. They are my top 5 items. If you think there is an additional item or tool that you would rate above the 5 items listed above, I would love to know what it is. Leave a comment below.
Need help building your website and developing your message?
Contact me to set up a FREE discovery call and sign up to my mailing list so you can be notified when new content is added.